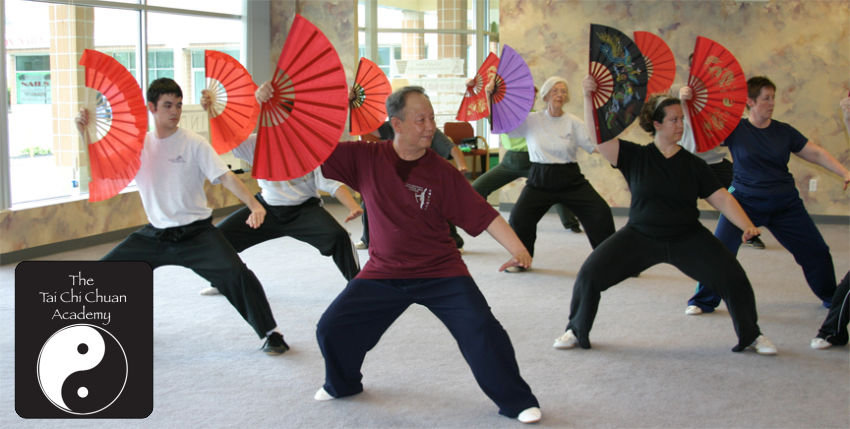 Final Results Fitness Tai Chi Academy
About Tai Chi Chuan
Tai Chi Chuan is a Chinese exercise system and a martial art. The literal translation of the name is "Supreme Ultimate Fist". Many people associate Tai Chi with the image of a large group of people in a park in China moving slowly in unison through a series of "dance like" movements. This is one aspect of the art, although the complete system encompasses much more than simply performing a series of movements.
Tai Chi training is based on slow, continuous, gentle and flowing movements of the whole body and a calm, focused, and centered state of mind. Tai Chi is an exercise practiced by millions daily in China, and is gaining
 popularity around the world. Our classes focus on the standardized syllabus (8-step, 16-step, 24-step, 32-step, etc.) for beginners. Students may go on to study the traditional Yang Style "Long Form", traditional Sun Style, the International Competition Routines (42-step, 42 Sword), Weapons (Broadsword, Straight Sword, Spear, Fan), and Push-Hands (two-person work).
The Benefits of Tai Chi
Improved health, flexibility, balance, strength, relaxation and mental calmness and focus are benefits proven by a series of studies of Tai Chi in a medical setting. The Tai Chi practitioner focuses on correct posture, rooting, breath, flexibility, relaxation, mind/body connection, and a centered, focused, calm and alert state of mind. In studies at major hospitals and Universities Tai Chi has been shown to be effective in providing support for those suffering with pain from Arthritis, Fibromyalgia, Shingles, and a variety of other conditions. For those people attracted to martial arts training, Tai Chi represents a balance between soft, yielding, and redirecting principles and relaxed applications of force through rooted and whole body integrated movements. It's effectiveness does not depend on size, strength or speed, making it an appropriate martial art for anyone to learn regardless of age or physical attributes.
Class Price Overview
$10 per class paid through Schedulicity.
Reserve your class in Schedulicity here
Beginners Tai Chi
Join us on Wednesday at 8:15 am for our "OPEN" class. Everyone is welcome to attend and beginning or less experienced students will benefit from the opportunity to work with advanced students as we enhance our balance, flexibility, and foundation skills.
Advanced Tai Chi
Our Mondays 7:30 advanced class has not restarted after COVID: At 7:30 the advanced class/special topics class begins, but everyone is welcome to stay and participate in the drills, and be inspired by the skill level of these students, many of whom have been studying Tai Chi for 12 years or longer!
Frequently Asked Questions
If I don't want to learn a martial art should I still join the class?
Yes, absolutely! Most students are only interested in the health and meditative aspects of Tai Chi, while some students will want to pursue its martial applications as well. Our classes are designed to accommodate both types of students. Each student is encouraged to pursue their own interests.
Is the class suitable for beginners as well as advanced students?
Yes, we are offering classes for beginners as well as students with Tai Chi experience. Never done Tai Chi before? Great! Join us at 8:15 Wednesday! Have you done Tai Chi previously? The Level 2 class at 7:30 is perfect for students who have been studying for 6 months or longer. We hope to start this back up soon. Are you interested in expanding your knowledge with the study of weapons, partnerroutines, or competitive routines? Be sure to check out our Special Topics and Advanced classes. Not sure where you fit? Just ask to talk to Chief Instructor Betsy Chapman, or you can send her an email at [email protected] note that we also offer private instruction by appointment. You may schedule one or a series of lessons to hone your skills, or explore a specific topic in more depth.
What is the typical class structure?
The class begins with gentle warm ups. Next, we'll review material we've covered previously. We'll follow that with a demonstration and explanation of new material, and we'll practice together. Questions and discussion are encouraged and are an important part of the learning process. The class concludes with a cool down routine and closing.
About Betsy Chapman
Betsy began her study of martial arts in 1981, and began focusing on Chinese styles exclusively in 1990. She is a student of Master Peter Warr (UK), who was Chairman of the 2008 Beijing Olympic Wushu Competition and continues to serve on the Technical Committee of the International Wushu Federation. (Wushu is the correct term for Chinese Martial Arts, usually called Kung Fu in the US.) She also studies with Master Jose Johnson (US), National Champion in 1995. Betsy has taught Chinese Martial Arts at Ursinus College since 1999. She is certified as a Senior Coach (Black Sash) by the Wu Kung Federation (UK), and holds additional Black Sash ranking from Nick Gracenin's Martial Arts Center (US) and the International Wushu SanShou Dao Association (China). She is certified as a Chief Judge for Chinese Martial Arts competition in the US. Her competitive experience includes Tai Chi, weapons, and Xingyiquan. She travels to China, the UK, and Canada to supplement her studies. Her student Julie Nieznay won the National Championship for Chinese Martial Arts in 2006. To complement her martial arts training, Betsy is an active musician, Shiatsu, and Reiki practitioner. She is a Certified Clinical Musician, working in hospital and hospice settings, and practices Vibro-Acoustic Harp Therapy, an emerging therapeutic modality.
To sign up for the newsletter, send an email to [email protected]
Pictured at right:
Top - Julie Nieznay (sliver medalist), Coach Betsy
Chapman, and CJ Rhoads (gold medalist) at the International Chinese
Martial Arts Competition in Orlando.
Middle - Julie Nieznay with her National Champion trophy. Surrounded by Betsy Chapman and Sara Gellhorn
Bottom - Sara Gellhorn and Betsy Chapman perform Straight Sword
on the Great Wall of China